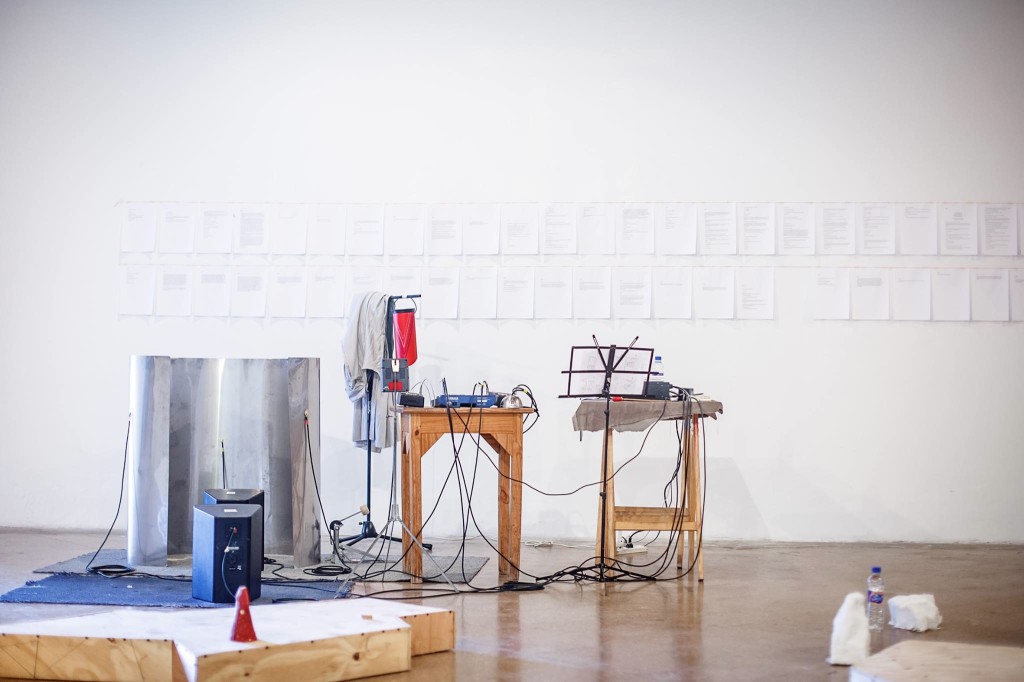 –  U p c o m i n g  –
10/01/2017 – RED – Installation/Performance as part of Harvestworks EARS Residency. Harvestworks 596 Broadway Suite 602 New York. 7pm.
09/22/2017 – Earshot Opening Reception (Group exhibition). Earshot will be on view September 22nd – October 15th, Wednesday through Sunday, 1-6pm or by appointment. A group performance of the works will take place on Saturday, October 14th, 7 – 9pm. Outpost Artists Resources Inc, 1665 Norman St, Nueva York.
08/24/2017 – La Corporación (Cecilia Lopez, Cecilia Quinteros, Amanda Irarrazabal), at CuatroTRes, Villa Crespo, Buenos Aires, 21hs.
08/04/2017 – RED (performance) at Not a Rehearsal; In Flux of Upturned Pleasure. El Museo de Los Sures, 120 S 1st Street, Brooklyn. Opening Reception and Performances: Friday August 4 from 6 to 10pm.
08/02/2017 – Territorial Limits. – Aaron Moore / Cecilia Lopez / Alan Courtis & Cyrus Pireh (Coils on Malbec) / Burned House Horizon (Sarth Calhoun, Michael Clemow, Jacob McCoy). Secret Project Robot, 1186 Broadway, Brooklyn 11221. $10. Doors 8pm, concert 9pm.
07/16/2017 – Just Situations: Day 4, (Meta)physical Manifestation. Jules Rochielle, Siri Nelson, Raha Behnam, Cecilia Lopez, Cherrie Yu, Miao Jiaxin, Sophia Mak. Grace Exhibition Space, Broadway 840, Brooklyn. Performances 4pm-11pm.
06/23/2017 – Ron Shalom / Cecilia Lopez / Anna RG. Monday July 3rd @ 20hs. Threes Brewing, 333 Douglass Street, Brooklyn NY.
06/09/2017 – New York Electronic Art Festival. Artists talk: Works by Cecilia Lopez. Meet The Artist Event with Andrew Demirjian and Katherine Liberovskaya: Friday June 9th @ 7pm Harvestworks, 596 Broadway 6th floor, NYC.
05/25/2017 – CT:SWaM: [5] A Spatial Sound Session for the 5th Anniversary. For its 5th anniversary celebration CT::SWaM is proud to be presenting collaborations and compositions. Works by: Claude Edwards, Merche Blasco, Shelley Hirsch, David Linton, Cecilia Lopez, Matthew Ostrowski and Kamron Saniee. Knockdown Center, 52-19 Flushing Avenue, Queens, NY. 19hs.
04/12/2017 – Pioneer Works presents OptoSonic Tea, an evening of live visuals with live sound performance on Wednesday, April 12. 159 Pioneer Street, Brooklyn, New York. More info
04/09/2017 – RED at Clocktower Radio. She Resonates invite sound artist Cecilia López to join us for an in-studio performance 5-6PM this Sunday, April 9th in conjunction with Pioneer Works' Second Sundays programming. 159 Pioneer Street, Brooklyn, New York.
02/22/2017 – Eardrumcluster installation as part as Mixology Festival 2017, curated by Michael J. Schumacher. Together with works by Olivia Block, Jason Lescalleet, Jim O'Rourke and Mario de Vega. Roulette, 509 Atlantic Avenue, Brooklyn, New York. Wednesday February 22 at 7:30pm.
02/16/2017 – 02/16/2017 – Mario de Vega / Cecilia Lopez at Issue Project Room, 22 Boerum Place, Brooklyn, NY. 8pm.
02/04/2017 – La Corporación (Cecilia Lopez, Cecilia Quinteros and Amanda Irarrazabal) + Christof Kurzmann. Also Luis Conde with Christoph Gallio and the trio of Alma Laprida, Eva Garcia Fernandez and Lucía Drocchi. En una.casa. Buenos Aires, Saturday February 4th at 22pm.
02/03/2017 – (In)visible dreams and streams. Nordic-Baltic Contemporary Art Exhibition. ARS Project room, Pärnu mnt 154, Tallinn, Estonia. The exhibition will be up from February 3rd until March 3rd.
2017
12/02/2016 – 01/15/2017. (In)visible dreams and streams. Nordic-Baltic Contemporary Art Exhibition. Contemporary Art Center in Vilnius, Lithuania. Opening: Friday December 2nd at 6 pm.
09/15/2016 – 10/04/2016. (In)visible dreams and streams. Nordic-Baltic Contemporary Art Exhibition. Bergs Bazaar, Elizabetes iela 83, Centra rajons, Rīga, Latvia.
10/26/2016- Ivan Khilik, Aaron Moore, Cecilia Lopez.  WORK at The Sump, 1563 Decatur St, Nueva York 11385. 8.30pm.
08/07/2016- Cecilia Lopez / Lucio Capece / Eliad Wagner. Studio Acht –  Grüntaler 8, Berlin-Wedding. Bar opens at 19.30. events begin promplty at 20:00pm- more info.
07/22/2016- Avido. Cecilia Quinteros + Cecilia Lopez + Amanda Irarzabal / Jorge Espinal + Juan Martin Jimena. CuatroTres. Ciudad de Buenos Aires. 22hs.
05/02/2016- Installation at Ende Tymes VI Festival. Opening reception June 2 from 6-8pm. Listening session June 4 from 2-6pm. Knockdown Center, 52-19 Flushing Ave, Maspeth, NY. http://halfnormal.com/endetymes/
04/25/2016- An evening of sound performances with Daiyko Furoshiki, Ragnhild May and Stefan Maier, Kristoffer Raasted, James Kelly, Gill Arno and Nao Nishihara. Trans Pecos, 915 Wyckoff Ave, Ridgewood Queens. 8PM, $8- http://thetranspecos.com/
04/05/2016 – Cecilia Lopez´s Graduate Thesis Concert – Wesleyan University, World Music Hall, Middletown CT. 9pm.
04/16/2016 – Los Pescadores de Perlas, ciclo de conciertos y conversaciones públicas entre Artistas Sonoros y Multimediales. UNA Universidad de las Artes. Miércoles 16 de Marzo de 19:00hs. Aula 109 (Aula Magna) Sede Artes Multimediales. Av. Don Pedro de Mendoza 679.  Buenos Aires. Entrada libre y gratuita.
02/27/2016 – Ammerman Center for the Arts and Technology Symposium. Experimental music show. Spark Maker Scape, 86 Golden St. New London CT, 8PM.
02/04/2016 – An Evening of Performances with Sergei Tcherepnin/Woody Sullender, Andrew Lampert, and Cecilia Lopez. Trans Pecos, 915 Wyckoff Ave, Ridgewood Queens. 8PM, $8- http://thetranspecos.com/
 10/01/2016 – 3 channel video/sound installation as part as New Ear Festival, Fridman Gallery – 287 Spring St. NYC. On view Sunday January 10th from 12-8pm, and each night at 7.30 before the performances. See link for more info
2016
11/27/2015 – RED at Kunternes Hus, Oslo Norway.  Wergelandsveien 17 – 9 pm.  Also Lars Laumann´s  premiere of "Seasons of Migration to the North" with original music by Cecilia Lopez. Show on view Nov 27th – Feb 17th.
10/20/2015 – Wesleyan´s Graduate Concert Series- Pieces by Gustavo Ribicic and screening of video pieces by Cecilia Lopez. CFA Hall, Wesleyan University, Middletown CT. 9PM.
07/18/2015 – Bard MFA Thesis Show – Opening Reception. Gallery Hours Monday through Friday from 11am to 5pm and Saturday and Sunday from 1 to 5pm. At UBS-Bard Exhibition Center, Red Hook, NY. More info: www.bard.edu/mfa/thesis
04/30/2015 –  Experimental Music for Vocal Ensemble. NYC Virtuoso performing "Versiones Arruinadas: 5 minutos de Burroughs" directed by Harold Rosebaum. Crovell concert Hall, Wesleyan University 8pm.
04/21/2015 – Cecilia Lopez, Laura Cetilia and Nicole Caroll at OPENSIGNAL v.2.3@ MACHINES WITH MAGNETS – 400 Main ST Pawtucket RI – 7:30pm – 8:30pm : artist talks / demos / 9:00pm: showtime
03/16/2015 – Vigilante Margarita at Palisades Brooklyn – 906 Broadway Brooklyn, New York 11206 – 8.30pm www.palisadesbk.com
 03/15/2015- Vigilante Margarita at Baby´s All Right. 146 Broadway Brooklyn, NY 11211. Hour TBA www.babysallright.com
 03/12/2015- Cecilia Lopez + Carrie Schneider at Experimental Intermedia. Curator: Phil Niblock. 224 Centre Street at Grand, Third Floor, NY 10013. 9pm. www.experimentalintermedia.org
03/09/2015- Vigilante Margarita at Kyle´s Korner at Otto´s Shrunken Head. 538 East 14th St. NYC 10009. 9pm. www.ottosshrunkenhead.com
 03/05/2015- Vigilante Margarita at Silvana. 300 W 116th St. Harlem, New York NY 10026. 9pm.  www.silvana-nyc.com
03/04/2015 – Vigilante Margarita / Bernd Klug / James Strong  at Wesleyan University. Memorial Chapel,  221 Church Street, Middletown, CT 06459. Free admission.
02/28/2015 – Vigilante Margarita at MAC Gallery. 650 Main Street, Middletown, CT 06457.
01/06/2015 – Vigilante Margarita + Bárbara Togander en Vicente El Absurdo. Julián Alvarez 1886, Ciudad Autónoma de Buenos Aires. 21.30hs
2015